The liturgical acclamation: "We proclaim your death, Lord Jesus" takes us back precisely to that moment; and with the proclamation of His resurrection we embrace in the same act of veneration Christ risen and glorified "at the right hand of the Father," as also the expectation of His "coming in glory." Yet it is the voluntary emptying of Himself, accepted by the Father and glorified with the resurrection, which, sacramentally celebrated together with the resurrection brings us to adore the Redeemer who "became obedient unto death, even death on a cross."
The Church and the world have a great need of eucharistic worship. Jesus waits for us in this sacrament of love. Let us be generous with our time in going to meet Him in adoration and in contemplation that is full of faith and ready to make reparation for the great faults and crimes of the world by our adoration never cease.
Pope John Paul II
Dominicae Cenae
February 24,1980
The Resurrection of Our Lord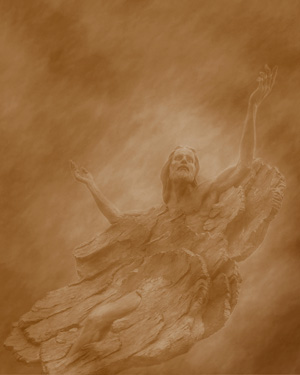 Lord
I believe,
help my unbelief
(Mk 9:24)
Christ's Resurrection is the fulfillment of the promises both of the Old Testament and of Jesus himself during his earthly life. The phrase "in accordance with the Scriptures" indicates that Christ's Resurrection fulfilled these predictions.
(Catechism of the Catholic Church #652)
The truth of Jesus' divinity is confirmed by his Resurrection. He had said: "When you have lifted up the Son of man, then you will know that I am he." The Resurrection of the crucified one shows that he was truly "I AM", the Son of God and God himself. So St. Paul could declare to the Jews: "What God promised to the fathers, this he has fulfilled to us their children by raising Jesus; as also it is written in the second psalm, 'You are my Son, today I have begotten you.'" Christ's Resurrection is closely linked to the Incarnation of God's Son, and is its fulfillment in accordance with God's eternal plan.
(Catechism of the Catholic Church #653)
THE PORTRAIT OF OUR LORD IS A UNIQUELY CATHOLIC WORK OF EUCHARISTIC ART, THE FRUIT OF MANY YEARS OF EUCHARISTIC ADORATION, TESTIFYING TO THE REAL PRESENCE OF OUR LORD, JESUS CHRIST, IN THE BLESSED SACRAMENT OF THE HOLY CATHOLIC CHURCH.
Content Copyright 2010 - 2016 Adadx6 Images All Rights Reserved