The desire to embrace his Father's plan of redeeming love inspired Jesus' whole life, for his redemptive passion was the very reason for his Incarnation. And so he asked, "And what shall I say? 'Father, save me from this hour'? No, for this purpose I have come to this hour." And again, "Shall I not drink the cup which the Father has given me?" From the cross, just before "It is finished", he said, "I thirst."
(Catechism of the Catholic Church #607)
The Crucifixion of Our Lord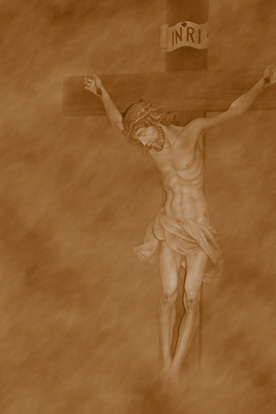 Lord
I believe,
help my unbelief
(Mk 9:24)
After agreeing to baptize him along with the sinners, John the Baptist looked at Jesus and pointed him out as the "Lamb of God, who takes away the sin of the world". By doing so, he reveals that Jesus is at the same time the suffering Servant who silently allows himself to be led to the slaughter and who bears the sin of the multitudes, and also the Paschal Lamb, the symbol of Israel's redemption at the first Passover. Christ's whole life expresses his mission: "to serve, and to give his life as a ransom for many."
(Catechism of the Catholic Church #608)
THE PORTRAIT OF OUR LORD IS A UNIQUELY CATHOLIC WORK OF EUCHARISTIC ART, THE FRUIT OF MANY YEARS OF EUCHARISTIC ADORATION, TESTIFYING TO THE REAL PRESENCE OF OUR LORD, JESUS CHRIST, IN THE BLESSED SACRAMENT OF THE HOLY CATHOLIC CHURCH.
Content Copyright 2010 - 2016 Adadx6 Images All Rights Reserved