The "Portrait of Our Lord" was created by combining four digital photos together representing: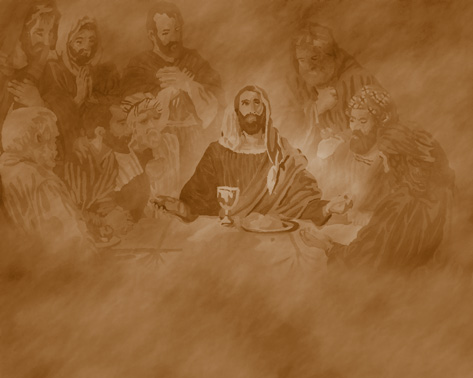 The institution of the Eucharist on Holy Thursday at the Last Supper
The Eucharist was born, on the evening of Holy Thursday, in the setting of the Passover meal. -Blessed Pope John Paul II
The Blessed Sacrament is really and truly Our Lord, Jesus!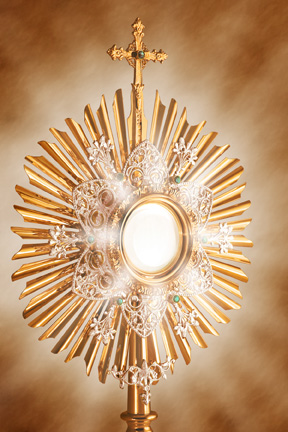 The "Portrait of Our Lord" includes an actual photo of Jesus, our Eucharistic Lord, captured during Exposition of the Blessed Sacrament at St. Elizabeth Ann Seton Church in Omaha. Our Lord's presence is shown glowing like the sun, the way scripture describes the appearance of Jesus to His apostles at the transfiguration (Mt 17).
Behold the Lamb of God
who takes away
the sins of the world
These are the profound words of the Mass that our priests proclaim when they elevate our Lord after the consecration. We believe that the bread and wine have changed into the Body and Blood of our Lord, Jesus Christ.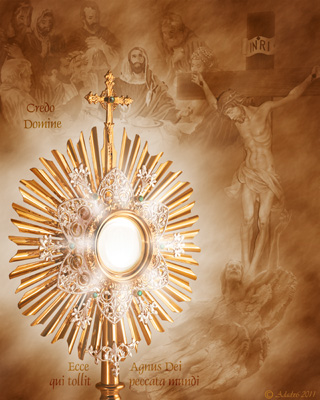 The proclamations "Ecce Agnus Dei qui tollit peccata mundi" (Behold the Lamb of God who takes away the sins of the world), and, "Credo Domine" (Lord I believe), are words of faith from the disciples that we continue to profess to this day because we know that our Lord is truly present in the Eucharist.
The "Portrait of Our Lord" image you see here was created to offer faithful Catholics a reminder of the Real Presence of Jesus for the time when we are at home, or at work, and not in the chapel. Is a picture really worth a thousand words as the saying goes? This Portrait of our Eucharistic Lord Jesus, is an expression of what our spiritual eyes, the eyes of the heart, see when we look upon our Lord in the Blessed Sacrament.
THE PORTRAIT OF OUR LORD IS A UNIQUELY CATHOLIC WORK OF EUCHARISTIC ART, THE FRUIT OF MANY YEARS OF EUCHARISTIC ADORATION, TESTIFYING TO THE REAL PRESENCE OF OUR LORD, JESUS CHRIST, IN THE BLESSED SACRAMENT OF THE HOLY CATHOLIC CHURCH.
Content Copyright 2010 - 2016 Adadx6 Images All Rights Reserved