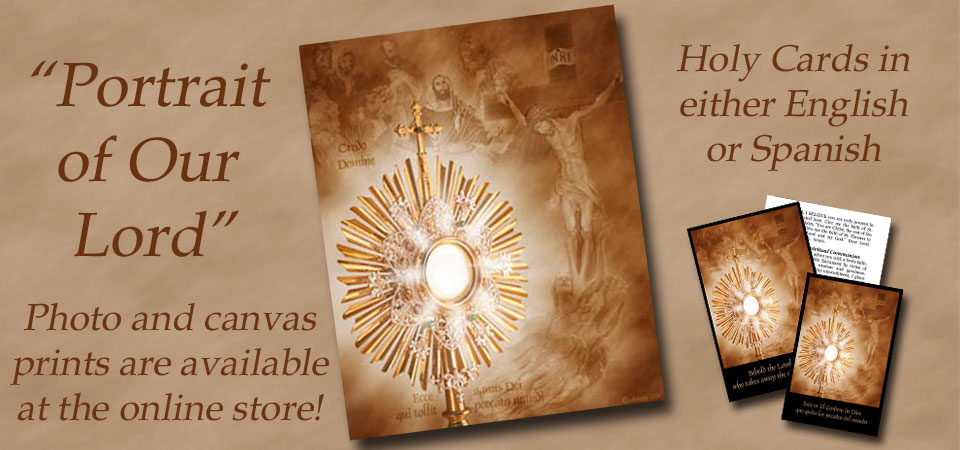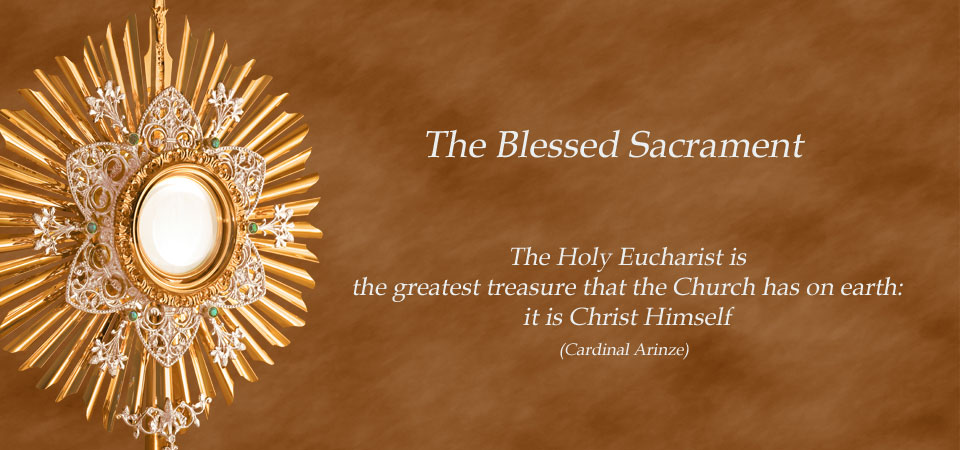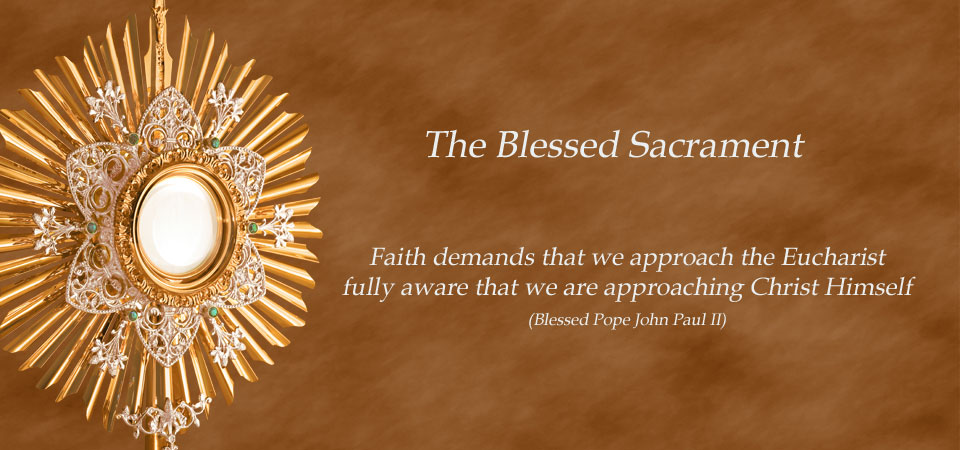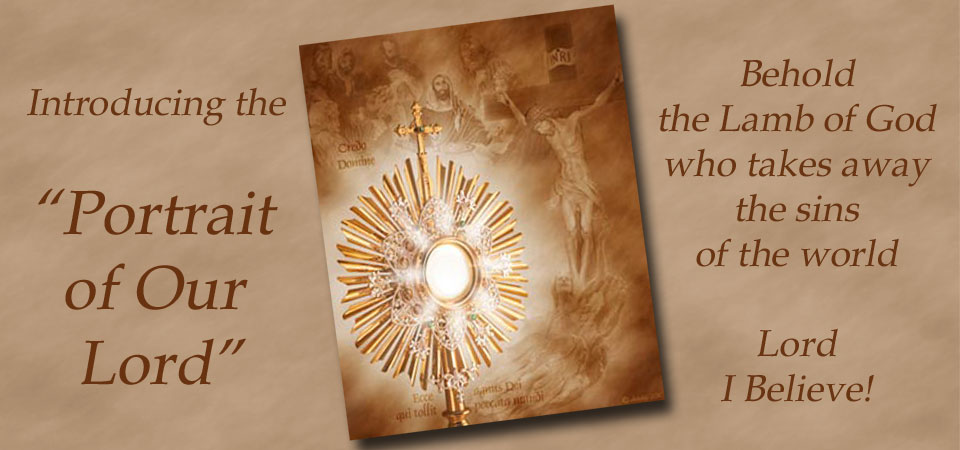 Behold the Lamb of God
who takes away
the sins of the world
The "Portrait of Our Lord" brings to believers what our spiritual eyes, the eyes of the heart, behold as we gaze upon Our Lord in the Eucharist.

The focal point of this artistic creation, the glowing Blessed Sacrament, Jesus Christ truly present in the world today, is encircled by three events in His life that define the Eucharist.

The Last Supper where His apostles saw and heard Jesus reveal His plan of salvation, the Crucifixion where His plan was put into action and the Resurrection where His power over death was affirmed.

The addition of Latin text and the overall coloration of this truly unique print give the Portrait an appearance reminiscent of ancient religious art, often seen only in museums.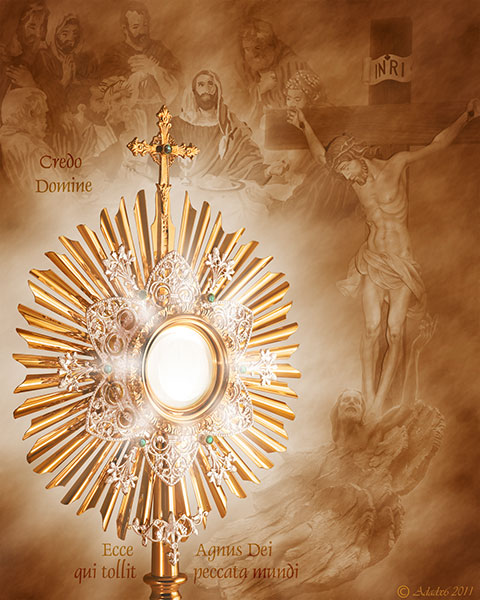 Feature - Wisdom From Pope Benedict XVI
The Last Supper alone is not sufficient for the institution of the Eucharist. For the words that Jesus spoke then are an anticipation of his death, a transformation of his death into an event of love, a transformation of what is meaningless into something significant, significant for us. But that also means that these words carry weight and have creative power for all time only in that they did not remain mere words but were given content by his actual death. And then again, this death would remain empty of meaning, his words would remain mere empty claims and unredeemed promises, were it not shown to be true that his love is stronger than death, that meaning is stronger than meaningless. The death would remain empty of meaning, and would also render the words meaningless, if the Resurrection had not come about, whereby it is made clear that these words were spoken with divine authority, that his love is indeed strong enough to reach out beyond death.
Thus the three belong together: the word, the death, and the Resurrection.
And this trinity of word, death, and Resurrection, which gives us an inkling of the mystery of the triune God himself, this is what Christian tradition calls the "Pascal Mystery", the mystery of Easter. Only the three together make up a whole, only these three together constitute a veritable reality, and this singular mystery of Easter is the source and origin of the Eucharist.
Joseph Cardinal Ratzinger
Pope Benedict XVI
God is Near Us
( Ignatius Press, 2003) pp. 43-44
THE PORTRAIT OF OUR LORD IS A UNIQUELY CATHOLIC WORK OF EUCHARISTIC ART, THE FRUIT OF MANY YEARS OF EUCHARISTIC ADORATION, TESTIFYING TO THE REAL PRESENCE OF OUR LORD, JESUS CHRIST, IN THE BLESSED SACRAMENT OF THE HOLY CATHOLIC CHURCH.
Content Copyright 2010 - 2016 Adadx6 Images All Rights Reserved